How to survive the heat with a baby?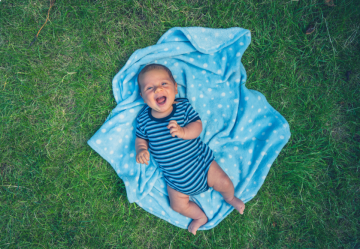 How to survive the heat with a baby?
Summer with a baby can be exhausting. Especially when there are tropical temperatures to contend with. In such cases, it can be hard to stand the outdoors and the indoors. What should you look out for and how can you protect your child?
Do not go outside at midday
The sun is strongest between 11am and 3pm, so it is best to stay indoors during this time. Sometimes you can't because you have an excursion planned, you are on holiday, you have to look after an older child, etc. In these cases, try to follow the advice below.
The more shade the better
If possible, stay in the shade as much as possible so that your child is protected from the sun and heat. Shade is good for all children, without distinction, as well as adults. Of course, the sun can be great for recharging our batteries, but it can also quickly drain them when there is too much of it. Heat, overheating or burnt skin is no fun.
Do not use suntan lotion
We should not use sun cream on babies under one year of age. Rather, we should protect them from the sun. So if you can't spend time in the shade, dress your little one in lightweight cotton clothes, preferably with long sleeves and trousers to keep them as covered as possible. If you are going to the seaside with your child, it is worth investing in UV clothing and a beach tent to provide shade.
Do not cover the baby stroller
This looks like a great, practical idea, but paradoxically it is not at all. If you cover the whole carrycot with a nappy or sling, heat will start to accumulate in the pushchair and your baby will sooner be uncomfortably hot than if the sun was shining on him. It is better not to do this. Use a sunshade which attaches to the canopy and handle of the pushchair, so that fresh air flows into the carrycot. You can also use an umbrella for the pushchair.
Baby sling and carrier for the summer
If you know that you will be carrying your baby for longer, take along a change of clothes for you and your baby. Like it or not, you will both get sweaty while carrying. At the same time, remember to keep your baby's legs, arms and head covered to prevent sunburn. You can buy UV leggings for the legs, or choose lightweight cotton clothes.
Hydration is important
Whether you are breastfeeding or using formula milk. On warmer days, replenish fluids more often, for yourself and your baby. It is possible that your baby will get up more often at night and sleep less well. Offer your baby milk every time so that you can be sure your baby is drinking enough fluid.
Too hot at home
If it is also hot in your home or flat, the baby can wear only a nappy, and on a waterproof base, also without a nappy. Don't leave the baby in a draught, and you can cover him or her with a cloth nappy or thin blanket to sleep, because in sleep the body temperature drops, so the baby could be cold.
This will not last forever
At a minimum, the whole first year with your baby will have you thinking about how to dress him or her, how to put him or her to sleep, when to start expanding his or her diet, how to clean his or her teeth and many other worries. The summer heat fortunately doesn't last forever and, like the other problems, it's only a matter of time. Even if you make a minor mistake during this period, don't fear, your little one won't remember it.